Okay, I know that it's already the 10th of January but I still wanted to let all you guys know this month's releases that I am most excited about! There are only two release dates for these 5 books so the 5th of January and the 28th of January- fab days for book releases I know!
Passenger by Alexandra Bracken.
Release Date: 05/01/16
This book has been on my radar for the past three or four months and the hype that has been building up surrounding this has been phenomenal. It is almost my birthday soon and I am so excited to either receive this book or have enough money to buy it- yes, I have already spent all my Christmas money on books…
Anyway, this book (from what I've gathered) is about time travel and New York..? I think… But the main character is a violinist and I think it would be really interested to see how Alexandra Bracken writes musically. This will also be my first book by her and I've been eyeing up The Darkest Minds for ages!
passage, n.
i. A brief section of music composed of a series of notes and flourishes.
ii. A journey by water; a voyage.
iii. The transition from one place to another, across space and time.
In one devastating night, violin prodigy Etta Spencer loses everything she knows and loves. Thrust into an unfamiliar world by a stranger with a dangerous agenda, Etta is certain of only one thing: she has traveled not just miles but years from home. And she's inherited a legacy she knows nothing about from a family whose existence she's never heard of. Until now.
Nicholas Carter is content with his life at sea, free from the Ironwoods—a powerful family in the colonies—and the servitude he's known at their hands. But with the arrival of an unusual passenger on his ship comes the insistent pull of the past that he can't escape and the family that won't let him go so easily. Now the Ironwoods are searching for a stolen object of untold value, one they believe only Etta, Nicholas' passenger, can find. In order to protect her, he must ensure she brings it back to them— whether she wants to or not.
Together, Etta and Nicholas embark on a perilous journey across centuries and continents, piecing together clues left behind by the traveler who will do anything to keep the object out of the Ironwoods' grasp. But as they get closer to the truth of their search, and the deadly game the Ironwoods are play­ing, treacherous forces threaten to sep­arate Etta not only from Nicholas but from her path home . . . forever.
2. Truthwitch by Susan Dennard.
Release Date: 05/01/16
Truthwitch is also a really hyped book for me and ever since I heard  about the concept of two best (girl) friends saving the world. This is probably the first magical fantasy that focuses more on friendship than love and I cannot wait to see how that plays out! The author, Susan Dennard, is best friends with Sarah J. Maas who has quickly become one of my top,top favourite authors so I trust her judgment  when she says  this book is incredible! Another to add to my list for my birthday!
On a continent ruled by three empires, some are born with a "witchery", a magical skill that sets them apart from others.
In the Witchlands, there are almost as many types of magic as there are ways to get in trouble—as two desperate young women know all too well.
Safiya is a Truthwitch, able to discern truth from lie. It's a powerful magic that many would kill to have on their side, especially amongst the nobility to which Safi was born. So Safi must keep her gift hidden, lest she be used as a pawn in the struggle between empires.
Iseult, a Threadwitch, can see the invisible ties that bind and entangle the lives around her—but she cannot see the bonds that touch her own heart. Her unlikely friendship with Safi has taken her from life as an outcast into one of reckless adventure, where she is a cool, wary balance to Safi's hotheaded impulsiveness.
Safi and Iseult just want to be free to live their own lives, but war is coming to the Witchlands. With the help of the cunning Prince Merik (a Windwitch and ship's captain) and the hindrance of a Bloodwitch bent on revenge, the friends must fight emperors, princes, and mercenaries alike, who will stop at nothing to get their hands on a Truthwitch.
3. Cruel Crown by Victoria Aveyard.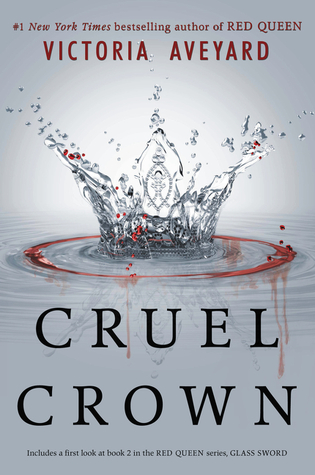 Release Date: 05/01/16
I read Red Queen back in the middle of 2015 and, come on, that ending though! Plot twist! I don't know if I am necessarily going  to read this book but it just serves as a reminder that Glass Sword is coming! If I feel in the mood for a novella I will definitely pick this one up!
Queen Song
Queen Coriane, first wife of King Tiberias, keeps a secret diary—how else can she ensure that no one at the palace will use her thoughts against her? Coriane recounts her heady courtship with the crown prince, the birth of a new prince, Cal, and the potentially deadly challenges that lay ahead for her in royal life.
Steel Scars
Diana Farley was raised to be strong, but being tasked with planting the seeds of rebellion in Norta is a tougher job than expected. As she travels the land recruiting black market traders, smugglers, and extremists for her first attempt at an attack on the capital, she stumbles upon a connection that may prove to be the key to the entire operation—Mare Barrow.
4. Beautiful Broken Things by Sara Barnard.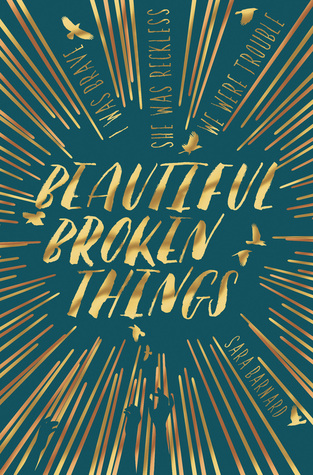 Release Date: 28/01/16
I have actually already read this book and I loved it beyond words. I actually could not believe how amazing this book was… I'm still speechless. This would have actually made my top books of the year list but because I decided not to add ARCs to that list. But it was so close! I cannot wait for you guys to read it! I loved the elements of friendship and the way really difficult subjects were handled was absolutely beautiful.
I've done a full, no-spoiler review so you guys can go read that if you're interested!
https://yourbestbookpal.wordpress.com/2015/10/29/beautiful-broken-things-by-sara-barnard-review-no-spoilers/
Best friends Caddy and Rosie are inseparable. Their differences have brought them closer, but as she turns sixteen Caddy begins to wish she could be a bit more like Rosie – confident, funny and interesting. Then Suzanne comes into their lives: beautiful, damaged, exciting and mysterious, and things get a whole lot more complicated. As Suzanne's past is revealed and her present begins to unravel, Caddy begins to see how much fun a little trouble can be. But the course of both friendship and recovery is rougher than either girl realises, and Caddy is about to learn that downward spirals have a momentum of their own.
5. All The Rage by Courtney Summers.
Release Date: 28/01/16
I actually just finished a copy of this book- Macmillan was lovely enough to send me a copy, so thank you! This book was so poignant, so deep and rich that I just melted into it and became attached to all of the characters. I found this book so beautifully written and yet so heart-breaking that it was difficult to digest… Lots of mixed emotions surrounding this book.
I will do a full, non-spoilery review to express my thoughts!
The sheriff's son, Kellan Turner, is not the golden boy everyone thinks he is, and Romy Grey knows that for a fact. Because no one wants to believe a girl from the wrong side of town, the truth about him has cost her everything-friends, family, and her community. Branded a liar and bullied relentlessly by a group of kids she used to hang out with, Romy's only refuge is the diner where she works outside of town. No one knows her name or her past there; she can finally be anonymous. But when a girl with ties to both Romy and Kellan goes missing after a party, and news of him assaulting another girl in a town close by gets out, Romy must decide whether she wants to fight or carry the burden of knowing more girls could get hurt if she doesn't speak up. Nobody believed her the first time-and they certainly won't now-but the cost of her silence might be more than she can bear.
And there you have it! There are the top five books I am most excited for this month! Like really, I cannot wait for a few of them… Yep I'm going to go order them now… I hope you guys do too!
Speak to you soon!